for blockchain based services
Owing a Web3 project you can give your customers option to pay for your services with any fiat as USD, GBP or EURO. Customers can use their card, bank account or blik similar solutions.
Running treditional e-commerce business, you can accept payments in crypto. We get crypto from customer, you get fiat from us.
The easiest way to pay for Web3 services
The easiest way to accept crypto payments
myDAPPpay is a licensed* Web3 payment solution: addressed at traditional financial institutions like banks, funds, transfer agents, e-commerce...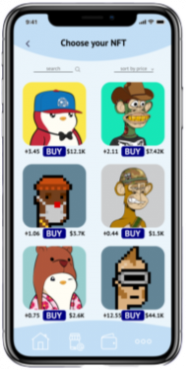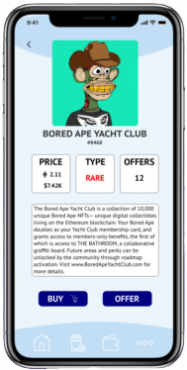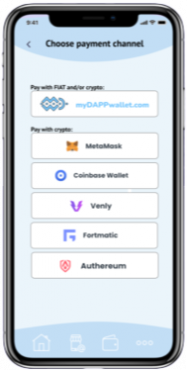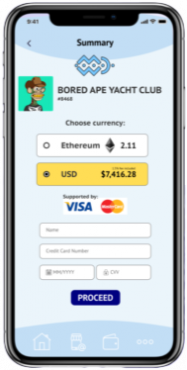 Make payment with Credit Card
myDAPPwallet offers easy payment process thanks to common traditional channels such as credit card or bank account.

Thanks to myDAPPwallet everybody can join DAPP/DEFI/NFT market!
GET access to 7.7 billion people with myDAPPwallet !

Current DAPP Services Purchasing Process
Today every user has to be familiar with the crypto world to pay for DAPP service. There are several complicated steps to purchase a DAPP, too difficult for a common FIAT currency based customer.
The customer creates account and transfer FIAT to exchange
Using a Crypto Exchange, the customer must to purchase a specific crypto currency such as ETH, EOS, TRON
The customer has to transfer bought crypto currency from Exchange into external crypto wallet, i.e. Metamask
The customer has to connect crypto wallet (i.e. MetaMask) with DAPP service
Finally customers can pay for DAPP services using crypto currency
Our solution simply streamlines the process of purchasing blockchain-based services for people who don't use cryptocurrencies by integrating traditional payment systems with blockchain technology in the background.
The customer will pay for the service with FIAT, e.g. by using a credit card.​
myDAPPwallet Seamless Purchase
System automatically converts FIAT (traditional fiduciary money) to the appropriate cryptocurrency (required by DAPP) and automatically purchases the service on the customer's wallet stored inside this payment system.
DAPP Owner receives payment from customer for product/service. And the customer receives the purchased product/service.
The user will be able to pay for the DAPPs service in one step in one system, as it does today with traditional services. All the complex blockchain steps are running in the background without the user input requirment. The effort is no more than a standard credit card purchase transactions well known by every consumer.
Why more people don't use DAPPs
Like any new technology, it takes time for people to get used to it. Many people in the world still believe that cryptocurrencies is another financial bubble that does not provide the security of their savings like banks or mutual funds and etc., quite the opposite.
Access to blockchain technology requires use of a cryptocurrency wallet like i.e. Metamask. Most people don't have any knowledge of how to use it.
Acquiring knowledge requires much effort on users part.
Managing a crypto portfolio requires use of tools that most users are unfamiliar with.
Lack of Central Shopping Location
The community of people already using blockchain-based services is very scattered, and lack of a central location like Google Play, makes it very difficult to promote DAPPs to a single larger market where general DAPP customers reside. As a result, all affiliate and marketing programs in the world have a very low effectiveness in promoting this type of application, and each DAPP is on its own in marketing efforts. Currently no group synergy of DAPP industry promotion exists.
September 2023
Starting sales and marketing